Check out :
♦     ♦     ♦
Curated from Other Sources:
Klimt painting, considered lost, unveiled at National Gallery
Prague, June 27  — The National Gallery (NG) in Prague today put on display Gustav Klimt's painting Lady with a Muff from 1916–17, considered missing for decades.
Lady with a Muff will feature alongside another two paintings by Klimt (1862–1918) in the NG for a period of time.
The painting was borrowed from a private Czech collection in which it has been since the early 1930s.  Previously, Lady with a Muff was publicly exhibited in 1926.
♦     ♦     ♦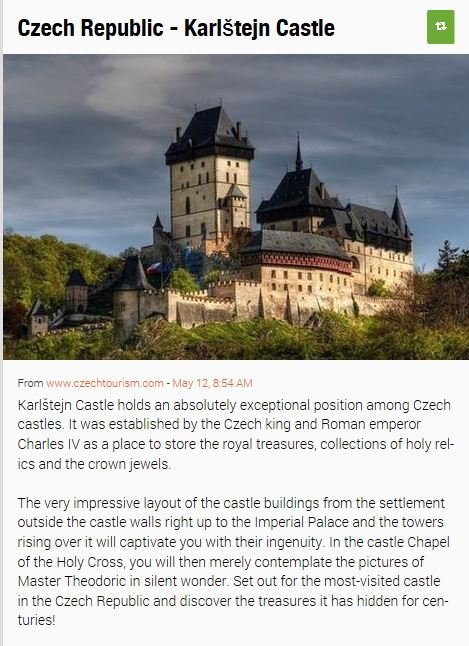 ♦     ♦     ♦
National Theatre to Exhibit Musical Archive
The National Theatre in Prague is preparing to exhibit valuable items from its musical archive as part of the ongoing Year of Czech Music. The handwritten manuscripts of two operas by Bohuslav Martinů, and the original scores of works by Antonín Dvořák and Leoš Janáček that received their world premieres at the theatre are among the treasures that will be on display on the balcony on the first floor of the historic building from June until September
♦     ♦     ♦
News Functionalist Mánes art gallery to reopen Wednesday
The Prague art gallery Mánes is set to reopen after a two-year renovation on Wednesday with an exhibition of works by caricaturist and illustrator Ivan Steiger. Restaurant and office spaces at Mánes are still awaiting building approval, with its operators saying they would like to open the entire complex to the public in the summer. The Functionalist structure hosted the 80th birthday party of President Tomáš Garrigue Masaryk in 1930, the year it opened with a show looking back at a century of Czech art.
Click here to view original web page at radio.cz
♦     ♦     ♦
Sir Harry Winton Update:  I just learned of another connection we have with this hero: Rotary International.  Read Karin's account in a previous post:  Hugging a Statue
Hero arranged for trains to save Czechoslovakia's Jewish children
Sir Nicholas Winton turned 105 years old May 19. He is known for saving at least 669 children from the Holocaust and is sometimes called the British Schindler.
Winton organized train transports for the children from Czechoslovakia to Britain in 1939. He secured departure permits for them from Germans, entry permits from the British authorities and admission to British families. These children would otherwise have ended up in concentration camps with a tiny chance of surviving.
In all, eight trains with children were able to reach Britain. A ninth train was scheduled for Sept. 3, 1939, but could not leave because World War II had started. The extended families of those who were saved now numbers more than 6,000 people.
He became known to the public after the BBC television made a documentary about him in 1988. Winton was knighted by Queen Elizabeth II in 2002. In January of this year he again was nominated for the Nobel Peace Prize by the Czech lower house. He was first nominated in 2008.
Slovak-born director Matej Mináč has shot several films based on Winton's story: the 1999 feature film All My Loved Ones (1999), the 2002 Emmy-winning documentary Power of Good: Nicholas Winton (2002) and the 2011 documentary Nicky's Family (2011), with acted sequences.
In 1998, he received a high Czech state decoration, the Order of Tomáš Garrigue Masaryk. An asteroid was named for him in 1998 as well by two Czech astronomers at the Kleť Observatory in south Bohemia.
Winton has long been a member of Rotary International, a service organization. He was the first inductee to the Rotarian Peace Hall of Fame, located in the Illinois Holocaust Museum and Education Center in Skokie, Illinois.
On the 70th anniversary of the rescue trains in 2009, a statue of Sir Nicholas was unveiled at Prague's main train station Hlavní nádraží. A train with some of people that he saved went from Prague to London to mark the anniversary. Winton met the arriving train.
Another statue is at the Maidenhead railway station in England, where Sir Nicholas is a member and former president of the Maidenhead Rotary Club.
Read more: http://www.praguepost.com/the-big-story/39116-sir-nicholas-winton-turns-105#ixzz32B6oq2jE 

——————–
The West Bohemian city of Plzeň is known for many things, but culture is probably not the first that would spring to mind.

But the industrial city is seeking to change all that as one of only two European capital cities of culture in 2015.

The circus, traditional and new, one-man shows to large troupes, will be one of around eight main themes of the programme with the organisers hoping to tap into the enthusiasm that the medium can evoke early on in the year.  In fact, circus troupes will be honing in on the city from France, Spain, Italy, Switzerland, and Canada.

Also Plzeň is preparing a tour of buildings designed by the world renowned architect Adolf Loos. The tour, which also takes in interiors, will be available to visitors from the start of next year. Loos, who was born in Brno, received his first commission in Plzeň in 1907 and carried out other projects in the city until his death in 1933. 
Click here to view original web page at radio.cz
——————————————————-
Prague's St Vitus cathedral to celebrate 85th anniversary of completion
12-05-2014  Chris Johnstone
Prague's dominant St. Vitus' cathedral celebrated the 85th anniversary of its final completion and consecration on Monday with a celebratory mass. Although the cathedral was started in 1344 under the reign of Jan of Luxembourg, it was only completed at a very slow pace with funds frequently running out. A final push to complete the cathedral was made to mark the thousandth anniversary of the death of Saint Wenceslas in 1929. In spite of the slow completion, the cathedral is praised for its consistent gothic style.