Prague is well situated in central Europe; many European capitals and even more pleasant towns are an easy trips from Prague. These are some that we visited.
I am way behind on writing them up, a good problem to have as I spend more time doing than writing. 🙂
The latest: Dresden: Christmas Charm
A summer jaunt into the mountains to tour a castle and walk along a river. Loket: Beauty in the Elbow
An easy day trip: Hrusice, home village of beloved Josef Lada. A pleasant 20 miles from Prague
The Czech second city: Brno, A university town that is very comfortable from downtown to Cow Hill (Monte Bu).
Budapest, Hungary: a city well worth spending time except for the strict time limit on transit passes. Read our adventures here.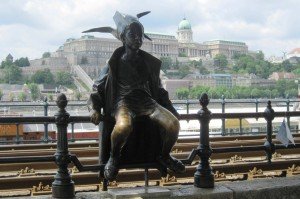 In the bitter cold of January 2012 we took a two-day trip to Poland. We found it quite educational; a real travel adventure. See Karin's photo-journal by clicking on the photo (Once there you may have to hover with mouse to discover descriptions).
A much more pleasant January trip was to the spa town of Karlovy Vary, better known as Carlsbad. Very Russian of us.
Cesky Krumlov: You will fall in love!
Bones and buildings at Kutna Hora
A taste of Italy: Umbria, Florence and Venice
More to follow . . .