Prague has so much to offer it is, of course, impossible to choose the best.  We love each location in its own way.  Also, nearly every time we go out we discover some place new and attractive.  This is a living city, constantly changing.
So we ask you, our readers, to list and vote on your favorite places in Prague.  One list for locations and another for food and drink.  Please leave a comment and I will incorporate it into the list.  Cheers!
Locations:
Czech Museum of Music:  A truly great interactive experience.  Not to be missed regardless of your tastes in music.
Republic Square(Namaste Republicky):  As shopping malls go, the Palladium is more fun than most, including an extensive food court.  Plus this square is near so many other interesting places.
Lennon Wall:  A visit here warms everyone's heart. Láska is Czech for love.
Lobkowicz Palace:  personalized view of Czech history that is impressive and moving.  Read about our visit here.
Ungelt:  Good things come in small packages. History, culture, food and drink all together in one square and environs. Less crowded than nearby Old Town Square.
Parks:  I won't name any one. There are so many and it does my heart good to see people, and their dogs, out enjoying themselves. Especially when the sun shines!
Bubenec neighborhood:  Our favourite pastime in any city visit is to walk through one or more of the nicer residential neighborhoods. This one in Prague is full of foreign embassies as well as ordinary houses like the one pictured.
Wilson Station, aka Praha Hlavni Nadrazi, is a modern, clean, spacious shopping center that also serves as the main train station.  Also home to the Winton statue
Kampa Island:  A pleasant yet stimulating respite from the surrounding city.  Also an opportunity for us to revisit our love lock. More on Kampa
FOOD AND DRINK:
Cafe' Imperial:  This building is heaven for art nouveau admirers; mind-boggling to everyone else.  The food and service are great too. Links here
The Beer Museum:  The one place we recommend more than any other.  Prague is the city of beer; here you can sample it all without getting drunk (too).  Travel Tip:  It is a pub, not a museum.  More
Kofein, tapas restaurant:  Grand fun. Four of us shared 15 menu items, two bottles of wine and one liquor for 1,500 Kc (60 Euro) in 2011. It all tasted great.
Sudicka:  A neighborhood restaurant we did not get to often enough. In 2013 it was re-incarnated and when we finally got back to try it we really enjoyed the food and neighbourliness.
Cafe' Louvre:  Elegant coffee any time and great for breakfast. A time machine in more ways than one:  Mezicas . . . 
Las Adelitas:  There are many "Mexican" restaurants in Prague. This one has food that tastes like the real thing. As well as real people operating it.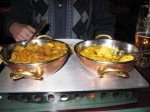 Mailsi Restaurant:  A neighborhood type place that has great Pakistani food served by a friendly family at reasonable prices.
Bila Labut: (Submitted by reader)  "My favourite eating and drinking establishment is the self-service restaurant in Bila Labut, because this is very much what grabbing lunch in the old days must have been."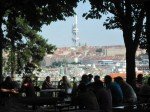 Scott Stavrou of WriteAway Europe wrote:  "Letna Park Beer Garden and Lavka Patio – two of my all time favorite places to sip a beer and stare at beautiful Praha."