Please Click For Current Blog Posts
Welcome to our site about life in the Czech Republic.  We have lived and traveled here for several years.  Please browse or search the site for our personalized travel guide to Prague and Czechia.  Start here for our favorite places or here for trips around the region.
This annual events calendar is such a major project; it is impossible for one person to keep up with all the events taking place.  So I have been slow in starting but here we go . .  one step at a time.
We first came to Prague because we heard how beautiful it was.  We came back because there was so much to see and do we wanted more.  Now several years later we are still over whelmed by all the events, festivals, fairs, shows, etc.–far more than we have the energy to attend and far more than I can keep up with here.
So I am just going to hit a few highlights in my standard personalized guide manner and perhaps thereby give you hints for what to search for on this CzechMates site or on the internet.  Be warned that precise details for local events are frequently hard to come by; many times you have to be prepared to search with your feet in the neighborhood and be disappointed at not finding what you expected. Though sometimes we have had our expectations exceeded and gained a memorable experience to last a lifetime.
Since our first trip to Prague was in December I will start there.
DECEMBER:
Christmas Markets:  We love them and even travel to neighbouring cities to experience theirs.  Prague may have more markets scattered around the city than Vienna but we found Vienna grander.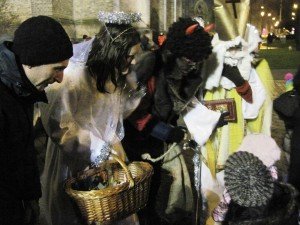 St. Mikulas:  Dec 5 is the best day to experience the joy of children at Christmas.  Read more
Christmas Eve:  The Prague Mayor and helpers serve free soup to whomever is willing to wait in line in Old Town Square.
New Year's Eve:  My personalized report from 2010.  2014 Update:  Fireworks moved to New Year's Day–well worth the jammed trams and Metro getting there; start early.
JANUARY:
Three Kings Day (Epiphany) Eve:  Balthasar, Caspar and Melchior riding camels from in front of Prague Castle to Loreta Square (Loretánské náměstí).  Traditional fun.
Prague Short Film Festival is held by organizers of the Karlovy Vary International Film Festival.  Jan 2015 had over 80 short films from 32 countries
Near the end of January a new tradition has developed:  Tourism Night Out for Locals   Sorry, not for visitors, but a cool idea that should be used elsewhere.
FEBRUARY:
Masopust:  The Czech equivalent to carnival is a moveable feast held at a location near you sometime between Epiphany and Ash Wednesday.  Though based upon the Easter schedule I do not think of it as religious; to me it is equivalent to Pig Slaughter.  For 2016 Masopust in our local square, Jiriho z Podebrad, is February 6, 7 & 9.  It is more commonly held in March.
Febiofest: –2016 held in March  "The Prague International Film Festival annually offers the best films from prestigious festivals around the world – including award-winning films from Berlin, Cannes, Venice, Toronto, San Sebastian and other world-class festivals, as well as several Oscar nominated films."  This is what their web site says; all I know is they have a huge selection of great films at bargain prices.  We enjoyed meeting a Director and a Star.
MARCH:
Polívkování: (2nd Year is on 19 Mar 16)  In my mind Czechs are as famous for their
soups as for their beers.  This Soup Festival shows they are just as popular; which is a problem that I have written about before.  Summary:  for any festival held at Horejsi Embankment arrive early.  By the way the menu is crowded as well with a huge selection from nearly every cuisine in the world.
Remember the film festival is in March not February and the Masopust carnival parade has multiple dates in Feb or Mar.
Good Friday:  25 Mar 2016 for the first time Good Friday is an official Czech Republic holiday.  Combined with Easter Monday makes a guaranteed 4 day weekend–look for lots of festivities, religious and non . . . (of course, other dates in other years)
April:
Prague has even more music festivals than food festivals.  As a mature person with limited taste in music I find few that suit me.  If you are young or just like being around rowdy crowds and loud music, look for Majáles, a celebration of spring and student´s life during the whole April at various parks and venues around Prague.
Easter is early in 2016.  Normally in April you will find Easter markets in Old Town Square and other squares as well.  They are the spring time version of the popular Christmas markets.  Photo
30 April 2016 is the date for a brand new food festival AsiaFest.  It looks classy and has a cover charge.  If the food is good, I am sure it will be back.  2018 Update:  Moved to July and then cancelled, may be back in May 2019.  Google it then.
MAY:
1 May is an official holiday called Labor Day here.  It is a rare chance to participate in a pagan fertility rite by going to Petřín hill and kissing under one of the blossoming trees.
8 May is another holiday called Liberation Day but really shouldn't be, according to me.  Check it out, if you are interested. For an American the best place to celebrate is Pilsen where they have a big parade and other celebrations of that town's liberation by the American Army under George Patton.  The beer is good too!
Speaking of which, a couple weeks in May also host The Prague Beer Festival, Czechia's largest.  Unimaginable variety: try one, then another; soon you loose discernment . . . time to quite.
On variable dates in May (14 & 15 May 2016) is Open House Praha in which various public and private buildings that are otherwise closed open all or some of their rooms to the public.  We usually pick the less popular to avoid the queues; some you have to reserve in advance and are quickly full.  Well worth the effort if you like architecture and/or history.
June:
No one needs an excuse to visit Cesky Krumlov, the best little town in Cesky, but in mid June you can experience the Five-Petaled Rose Celebration celebrating the medieval rule of the Rosenberg family.
Hmmm, on June 11, 2016 is the Kaleidoskop multicultural festival.  The description looks just like my favourite Vibrant Colours International Festival listed below in August.
JULY:
Prague Folklore Days:  On any given weekend in the summer you are likely to stumble
on a temporary stage with somebody singing, dancing or playing music.  We have enjoyed the folk dancing and the choir groups hosted by PragueFestivals.cz  Check their site for exact dates and locations.  Be aware though that the average participant age is a few decades older than this photo.
Bohemia Jazz Fest:  Mid July extravaganza making Old Town Square even more packed than usual.
St. Cyril and St. Methodius Day:  Makes 5 July an official holiday.
Jan Hus Day:  Makes 6 July also an official holiday.  Both are as much cultural as religious.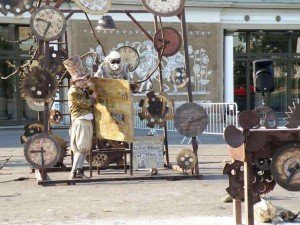 Street theatre is big in Europe and in Prague.  Sometimes it is great, sometimes awful, but that is the adventure!  Given the price–free–you can't go wrong; just walk away from what doesn't appeal.  In July there is a big festival with shows scattered around the city over several days.  Look for Za Dvermi:  11 – 17 – 2016
AUGUST:
Den Bernarda / Bernard Day:  I am putting this event in August even though in 2015 it was held in October; Google it for the current year and date.  In celebration of brewing Bernard Beer since 1597 all pubs with Bernard on tap will sell it for 10 Kč a glass!  You don't want to miss that.
Vibrant Colours International Festival:  Read why this is my favourite
SEPTEMBER:
LadronkaFest:  Ladronka Park is a long narrow city park in Prague 6.  Lots of paved paths and open space for what is billed as "The biggest festival of free time in Central Europe." That means anything with balls, wheels and plenty without such as pogo sticks or boxing.  Also a band contest with no alcohol, that's rare.
European Heritage Days:  Changes every year as to dates and locations but offers opportunities to see places not usually open to the public–and free!  The more popular places are best to book ahead.  On, 9. 9. 2017, The City of Prague Museum opens for free The Main Building, Ctěnice Chateau, Podskalí Custom House at Výtoň, House at the Golden Ring and to The New Mill Water Tower.  Official Site
Vintage Grebovka:  Havlickovy Park is within walking distance of our home; it contains vineyards and a winery outlet.  We enjoy this place in each season but especially during their annual wine festival in late September.
St. Wenceslas Day and Czech Statehood Day:  28 September, another religious and cultural official holiday.
OCTOBER:
Independent Czechoslovak State Day:  28 October.  Can you beat that; an official holiday for a country that no longer exists.
NOVEMBER:
Whiskey Life Prague:  Early November brings 100's of whiskeys and bourbons in one place.  Reasonably priced tastings keeps the hordes away and there are master classes for the connoisseurs.
Hey, are you of Polish ancestry?  Check out the Bardzo fajný festival in late November.
Christmas Arrives Early —  Like it or Not
Struggle for Freedom and Democracy Day:  17 November is another official holiday. The name sounds communist but the date marks the beginning of the end for communism in the then Czechoslovakia.
Diplomatic International Christmas Festival:  Late November.  I do have to mention this because it is the biggest.  Unfortunately it is also the most jam-packed with people so you have to constantly fight crowds to see all the cool stuff from nearly every country in the world.  We gave up after the second visit; we would love to go back if they ever move it to a bigger venue than the Hilton.
Ha, now that you have read this far I will give you a link to a site that has a paid staff to keep up with what is happening–those not always the best place to buy tickets:   Events 2020