Quiet Village Full of Life
Aliki (also Alyki) is a delightful village with a great deal of charm as well as your choice of 3 swimming beaches. There are also many choices for water-side dining, from gyros and hamburgers up through quality seafood. You can actually watch the octopus being caught on the rocks at the harbour entrance. Local services include three groceries, pharmacy, gift shops and car, motorbike and boat hire. While it is easy to get to the rest of the island many visitors say that once they discover this village they do not want to leave.
Aliki is popular with families. The public park has a fully equipped playground, sports fields, basketball court and tennis court. There are walking trails along the coast line and back roads to nearby beaches that are justly world famous. We were proud to call it home for over 7 years. The two major festivals are the Bonfire on 23 June and the village festival on 6 August. Read more
A couple more of our videos: Aliki Carnivale Aliki girl dancing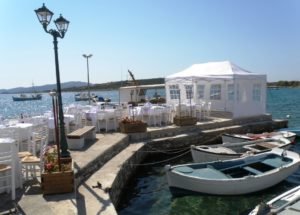 The village is also a popular wedding venue. One taverna specializes in large events or you can occupy the streets as well. Read more . . . You can stay in pastoral villas just 2 minutes walk from the harbour that include local olive oil and vegetables. Read more on our ParosParadise blog We can also refer you to economical rooms and studios in this quaint and comfortable village. Start at our accommodation page. Several of our private villa rentals are an easy drive from the village centre.
More about activities all over Paros
For more–and better– photos of Aliki and Paros see Christos Skandalis photography on Facebook. The painting at the top is by Michel Parthenay, an Aliki resident. See more of his evocative renderings of Paros in his Facebook albums. If the link doesn't work then search his name; its worth it!