The Peloponnese is so very full of attractions (see map below) from all eras of Greek life—ancient, orthodox Christian and modern—that we find it best to have a base camp from which to explore the many alternatives. Or maybe it is just because we like Nafplio so much that we always go there.

By the way, spellings when translating from Greek to English are consistently inconsistent. Like everything else when travelling in Greece you need to be flexible. Some of the variations for this town are Nafplia (ancient), Nafplio, Nafplion

Below is a photo journal of our visits; mostly by Karin with some comments by Michael.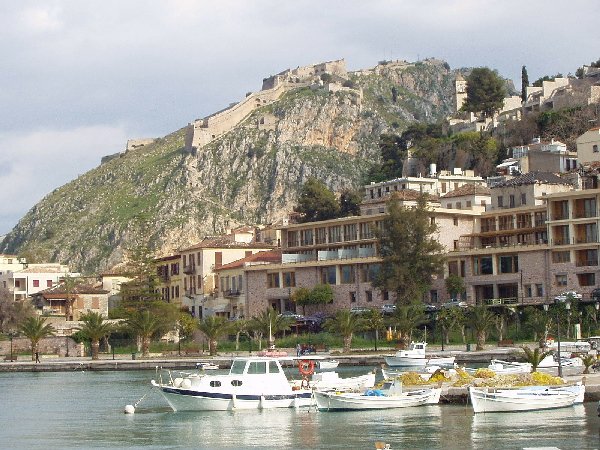 Palamidi is the fortress that dominates the city, in the sense that it almost floats on a steep hill over Nafplio. Between 1711 and 1714 the Venetians built the castle (an amazingly short time), and this is in fact the final fortress of importance the Venetians built outside their own country. It's also considered one of the most impressive. Yet, in 1715, one year after completion, the Turks defeated the castle.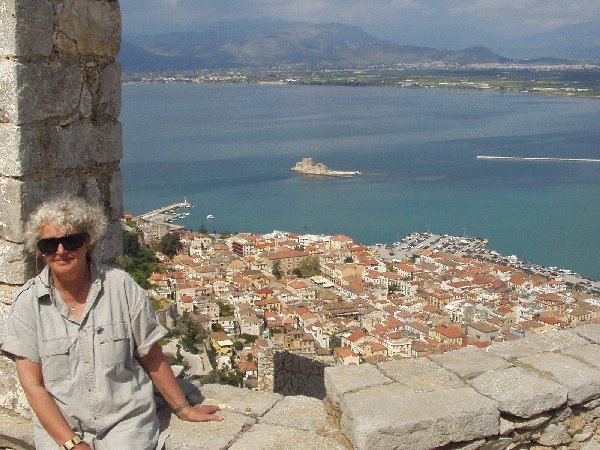 In 1829, after the Greek War of Independence from the Ottoman Empire, Nafplio was chosen as the first capital of the new-founded state and democracy. In 1833 the capital moved to Athens.
The center of old town is
dominated by a monumental statue on horseback: the hero of the Greek revolution, Theodoros Kolokotronis.
Also in the park is the statue of King Otto who became the first modern King of Greece in 1832. The second son of King Ludwig I of Bavaria, Otto ascended the newly created throne of Greece while still a minor.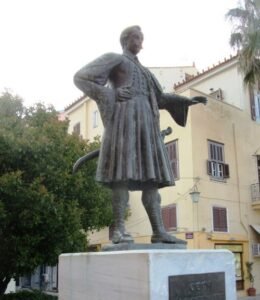 For us, the best part of this town is the relaxed eating and drinking. Left photo below is of typical old town street and right is from a harbour taverna at sunset.
To work off the extra calories you don't need to climb the steps to the Palamidi Castle because there are numerous sea level strolls to enjoy. Such as this walking path around the peninsula.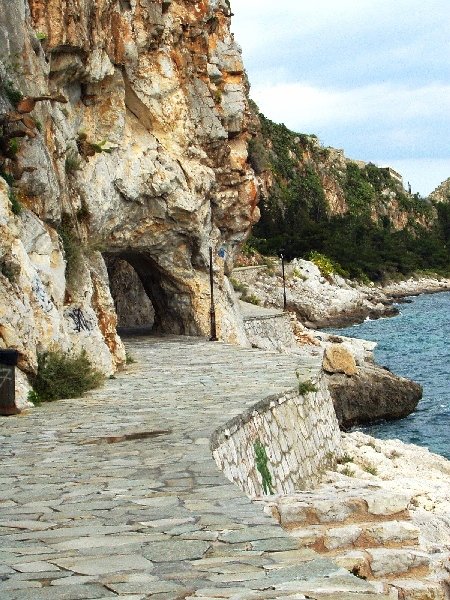 TOLO
If that wasn't enough, a 15 minute drive away is the sea coast village of Tolo with a sandy beach.
Two sea views from our Tolo café table. And on the other side a view of students dancing in the street. Presumably celebrating the end of school for the year.
More amateur videos of Greek life
Now that you have relaxed and had fun in Naplion and/or Tolo it is time for some serious learning about ancient Greece, the birthplace of Western civilization. Browse the map below for links to major Peloponnese sites on our sister website Visit-Ancient-Greece.com
You want more? There's an app for every ancient and historical site in Greece. Learn More