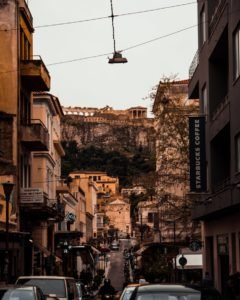 Most international flights land at Athens–after all it is a crime against humanity to come to Greece and not visit the Acropolis. But there are many flights during the summer season to Crete (Iraklion), Mykonos, Santorini, Rhodes, Corfu and the like. All have ferry service to other islands but local flights are only between Athens. By the way, there are no reasonably priced hotels at the Athens airport, but it doesn't matter because there are dedicated express busses to Athens, Piraeus and Rafina– As well as a suburban railway and a Metro line. So either stay in downtown Athens or away from the port in Piraeus. The Athens Metro is superb with very interesting stations, many showing antiquities excavated during their construction. Most people find two half days in Athens sufficient to see the highlights of this big city which is not pedestrian friendly. It is best to get out and away to other places in Greece. More on Athens
"Greece is the only nation to have lost its marbles and wants everyone around the world to know about it."
Author unknown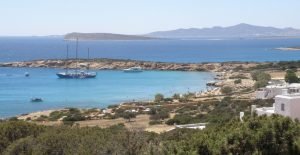 That depends upon you. Our home of Paros consistently rates high as a good mix of activity and Greekness. The more popular islands such as Mykonos and Santorini are that way because they are easier to get to. The more authentic Greek experiences such as Sikinos, Folegandros, Tinos are that way because they are harder to get to. I don't know much about Rhodes, Corfu or the non-Cycladic islands. If you are under 25 and like to party, Ios is the island for you, everyone else would be happier elsewhere, I think. Crete is a big island that has a lot of everything, including the incomparable Knossos. To chose an island hopping itinerary does take some research. My biggest advice is don't include more than 2-3 islands per week. Even if they are only one hour by ferry you still spend a day checking out of your hotel, waiting for the ferry and checking into a new hotel and getting oriented.
Compare ferry routes, schedules and rates for island hopping:  Ferryscanner
See other peoples votes for the Best Greek island
Electricity & Electronics



The main think to keep in mind about electricity here is that it is 220 amps while the US is 110. So everything from there will burn up

unless you use a converter. That is different than an adaptor. An adaptor is just to change the size and/or shape of the plug. A converter changes 220 to 110 or vice versa. They are usually expensive and heavy but some of our guests had some light ones. Things like tablets and computers that run on very low voltage usually have a built-in converter. You have to read the fine print on the black box that is part of the cord; some say 110 only, most take both 220 and 110. If it is USB powered you can plug it into any computer. Same for phone chargers.
Smart phones and some other USA phones will work in Europe. We always buy a local SIM card for each country we visit because international roaming charges are quite high. If your phone doesn't work here, you can buy one with SIM card for under 50 Euro. Before leaving home check with your phone company; they may have a temporary roaming package that will work for you.
One thing in which Greece has kept up with the rest of Europe is topless beaches. Nowadays most beaches, unless close to a village or town, will be topless optional. Long narrow beaches or remote beaches will generally be clothing optional at the far ends. They are easy to find or avoid as you prefer. Common courtesy is usually the correct etiquette. More on Paros naturalist beaches
I strongly advise travelers to research any local festivals that may be happening during your stay; they are very broadening and give an insight into the culture. In Greece, as most places, there is a large generational gap in cultural observances. Traditions are mostly observed by the older. Yet Greek families tend to be close knit; there is great respect for the elder by the younger. Traditionally Greeks celebrate their name days instead of their birth dates. Since a few names such as Yannis, Giorgios, Nikos are quite popular this leads to semi-major holidays on those dates.
Strikes can be hard to predict or avoid but the key is to check on your particular flight or ferry, excursion or whatever. Many still take place even when the news headlines say everything is closed. Greece has never been a place for precision and accuracy. Plus once you get to an island you leave the world's cares behind. Here is a blog post: No Strikes on Paros
Finally, to fully enjoy your Greek experience don't be put off by the stern manner displayed by the Greeks in public. Smile and chat them up and soon you will be having a grand time being treated as their personal guest in the birthplace of western civilization.