Antiparos, what can I say? I am not literate enough to describe an atmosphere, an ambiance. The physical description of a mountainous little island with one town and one village certainly does not do the job. So I will just have to show you by examples from our many visits there.

August full moon concert with one of the best string quartets we have ever heard–plus free wine. Antiparians can not be beat for hospitality. Two minute read at Antiparos Excels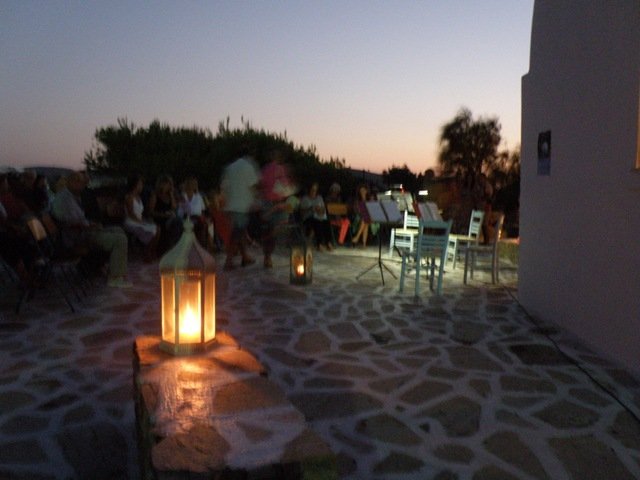 By the way, Antiparos' most famous villa owner, Tom Hanks, participated in the swim at least one year that I know of. Below is a photo of his villa as well as ours.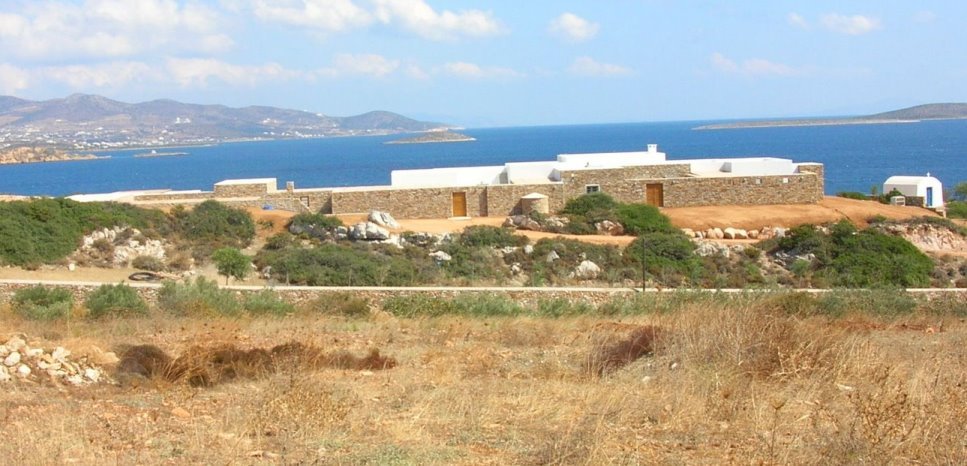 His is the one in the middle shown when newly constructed; now landscaped so that it is hard to recognize. Ours is one of the white dots on Paros in the background.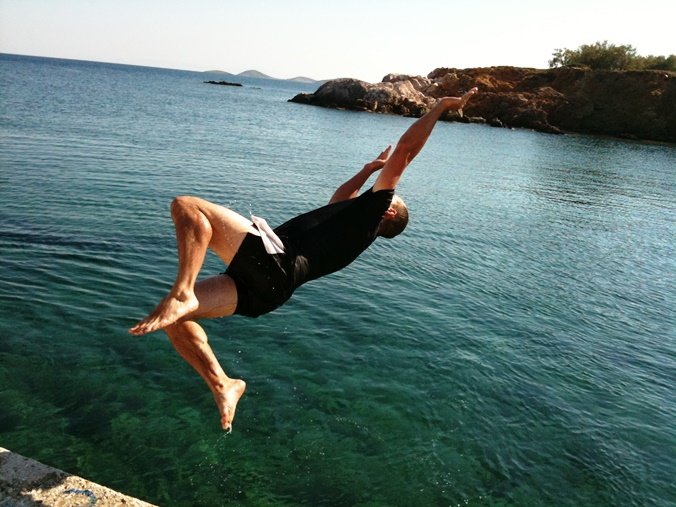 The Hanks' villa is slightly North of a small cove known as Still Waters; formally Apantima Beach. For many years our favourite place to lounge, swim and dine on Antiparos. But sadly our last two times there were unsatisfactory. Now a whole new establishment is at the beach with moderately good reviews. Check it out and let us know what you think.
Beaches
As I mentioned, Antiparos is a favourite hang-out for Scandinavians and consequently has the highest percentage of nude beaches–the official one is at the North end at the narrow point to Diplo Island; also at the South end of Fanari Beach Club also, well, just about anywhere. Nude beach etiquette found here.
By the way, if you want to swim from one island to another, it can be done here to Diplo Island. At medium tide it is about the length of a swimming pool and low tide you can just walk across in waist deep water.
The Fanari Beach Club is a short walk from the ferry port and has something for everyone but Antiparos is noted for the numerous small coves with sandy beaches scattered around the more remote corners of the island. They are only accessible by unpaved winding roads or boat but worth the adventure if you like distance from the maddening crowd.
Damn, despite the countless hours I have spent on the many small beaches of Antiparos, I can't find any good photos. This one from an excursion boat gives the idea. On the right is another beach stop; this one on Despotiko.
Speaking of which, a one day boat excursion around Antiparos is the highlight experience for Paros visitors who take the trip. We include the experience in all our workshops. Our favourite provider is Captain Ben.
Cave
In the olden days the number one tourist attraction on Antiparos was the cave. It is still worth the trip. Perhaps unique for its historical graffiti, including from Lord Byron. Just remember as you descend the multiple levels that you have to climb back up. Official site
Food
We have had countless fine meals, snacks and drinks on Antiparos. Though management and cooks change yearly it is rare not to have an excellent dining experience whether on the main streets of town or in the village of Agios Georgios or in-between.
How to get there
Other than swimming . . . by eight minute (approximately) ferry ride from Pounda Ferry Port. Or in the summer by excursion boat from Parikia. See map below