Activities on Paros
Our island of great beaches, lively towns and ancient sites has too many charms to list or even summarize.
Experienced island hoppers often list Paros as their favourite.
Browse through our web site to find what attracts you, including post category Activities
Windsurfing & Kiteboarding
Pounda Beach on the west side of Paros and across from Antiparos is known as the kite boarding capital of Greece. International competitions are often held there. Lots of windsurfing as well.
The east side of the island has several locations for both as well. Use the search box below to find which appeals to you. If you are not the athletic type, it is exciting and beautiful to watch from one of the bathing beaches or the terrace of one of our nearby villas, Villa Randiana.
You name it; Paros has it. We have our favourite spots for snorkeling; with a little exploring you can find your own as well. For the child in you there are water slides, banana boats, water skiing, peddle boats, et cetera. Karin's snorkeling adventure here Scuba Diving is big here. You can even see an ancient city as well as the usual boat wrecks, ancient and modern.
I have been negligent in researching the numerous museums on our island. Most are small and ran by private organizations. The exception is the Archaeological Museum of Paros which is open year around and contains excellent examples of marble statues and other antiquities found in the vicinity.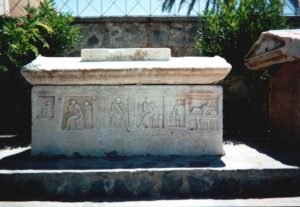 The best of the historical museums is in Aliki near the airport. The Folkloric Museum of the Cyclades is mostly the work of one man, Benetos Skiadas. We highly recommend a visit to his diverse collection of old Greece re-creations. His daughter, Katerina has also put together a web site jammed full of old family photographs of life on Paros before tourism.
Ekatontapyliani of Paros, Church of a Hundred Doors – Not a museum but the centre of local life. One of the oldest maintained Christian temples and one of the most important in Orthodoxy. Founded by Emperor Constantinos in the 4th century and featuring a unique cross-shaped marble Baptismal Font. Includes plexiglass panels to see the ancient temple upon which the church was built. Our sister site, Visit-Ancient-Greece.com has three pages full of ancient Greek sites on Paros.
Our island is teeming with art and artists of every description. Yet there is always room for another plate at the table. In fact the communities growth becomes mutually supporting and enhances the environment for the professional artist as well as the visitor just browsing past the galleries. So if you like art drop by, you may end up staying awhile. Or even attending one of the two art schools. We, Michael & Karin, have hosted many art and other workshops on Paros. We are always happy to do more. Check out these workshop pages:
I have also written a few articles about the thriving art scene here: Painting on Paros & Joy of Beauty
Hiking, Trekking, Rambling or Walking


Paros is a great island for walkers–that includes Antiparos. There are a few off-road foot paths and a great many unpaved back roads.
This photo is of our favourite: out our door, through Aliki and along the coast to the North. We usually go about 15 minutes out to a nice beach that has a lot of shells and other flotsam and jetsam. The more intrepid can walk all the way to the Pounda ferry port, I'm guessing about 6 km.
Many people like the history-laden Byzantine Trail between Lefkas and Podromos–mostly down hill. If you are more into beaches and tavernas you can walk along the coastline between Piso Livadi and Drios and have your choice of swim and drink breaks.
Friends from the UK who belong to a walking club there and live part of the year here are setting up guided walks. So if you either want to bring a group or come on your own and be on your own e-mail us for helpful information. Also check out this trail guide for four islands.
Kokou Riding Center – Find out about tours for beginners and experts all year around and meet the 23 horses available. Yoga – Plan your own program or join a group. Expert teaching on our island. Taos-greece.com – "For us, Tao's is about the art of life management in our age. A place, where simple Tao meets the sword of Zen in a Zorba way." & Thai food to die for!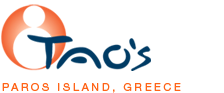 Greek Cooking – Food is perhaps the highlight of the Greek islands. What better way to experience it then to take a cooking class. Wine – While Greek wines tend to be noted more for their low price than their high quality modern winemakers are producing better vintages all the time. Paros has two major wineries; the Farmer's Union and Moraitis family. Both conduct tours and tastings upon arrangement. Read More about island wines.
Be sure and check out any festivals that may be happening during your stay. Read our experiences on that link as well.
Find some exciting experiences that you can book ahead HERE
[td_block_1 category_id="9″]