Our Location

We are at the centre of your Greece holiday!
Distances from Paros:
Athens(Pireaus) 95 Nautical miles
Mykonos 30 Nautical miles
Santorini 40 Nautical miles
We can be easily reached by ferry from these places (and all the Greek islands) and by air from Athens. See our Greece information page for more specifics.
2022 Update:  New Cycladic Airlines based on Paros is offering custom flights between certain islands.  Details not yet available.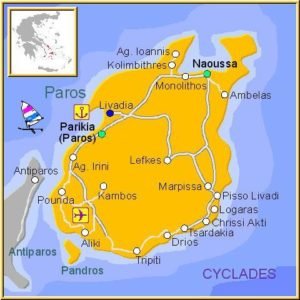 On Paros:
Many small, quaint villages with full facilities within a 2 minute walk.  The port city of Parikia is an easy drive.
"No place on Paros is more than 30 min., from any other place."
There is extensive bus service to nearly all areas of the island.
Taxis are much cheaper than big cities or expensive countries, that is, affordable.
Local Car, Motor scooter, bicycle and Boat Hire Available.
If you would like to book a car in advance, Car Trawler has a lowest price guarantee.
Antiparos is right next door . . .