Milos
A Geological Experience
While the ferry routes change every year, during the season you can count on at least one ferry per day from Athens/Piraeus to Milos. Our ferry from Paros averages every other day; we took about 5 hours with stops at Serifos, Sifnos and Kimilos. We chose the central town of Adamas to stay but were especially impressed by the village of Pollonia. It reminded us of our home village, Aliki, Paros.
Milos is built in a caldera, much like Santorini, yet it is not as strikingly awesome as Santorini. The bay is one of the largest in all Greece. It is an island of mines, some still active. What makes Milos so distinctive and beautiful is it's geology. Minerals, volcanic rock, etc give it an arid, yet colourful, appearance. Among the minerals being actively mined to this present day are bentonite, perlite, kaolin, and baryte. Look them up, if you want to know more.
This is Sarakiniko, a name of Arabic origin. It is unique, like a lunar landscape yet unreal. Very white convoluted rock formations reach out towards the sea as if a monumental sculpture. In June the beaches are still empty and no place is crowded. Milos does have tourists, but mostly Greeks and in July and August. Their airport links to Athens only. Not being on the same ferry route as Mykonos or Santorini makes a big difference in quantity of visitors.
An interesting bit of ancient Greek history is that when Sparta fought Athens Milos preferred to remain neutral. That made the Athenians mad, so later on during another skirmish they came here, killed all the men, and took all the women and children as slaves! Today the airport is bringing Athenians again…but they do not plunder; they buy pretty things in the gift shops, eat in lovely restaurants, and stay in villas and hotels hosted by the friendly Milians, most of whom immigrated from Crete.
In the 1830's a local farmer found a cave and inside was the top part of the statue. After
more searching the bottom half was found in another cave. The farmer told some important French people on the island and the rest is history. She was sold to the French and now resides in The Louvre. And made of marble quarried on Paros by the way.
This is Main Street, Klima! Those houses that butt up to a hillside have boathouses in caves. Later, houses were built on top. Very unique.
Above Klima and below Tripiti and Plaka is an area of old Roman ruins. At one time it was a full city, now very little is left. A map shows quite extensive ruins in the area, but it has been destroyed by earthquakes and time. Also in this ravine are Christian catacombs where they held their religious ceremonies and buried their dead, out of sight of the pagans of that time.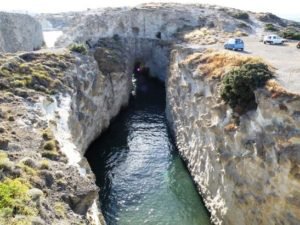 This place used to be a huge cave with the ancient town of Phylakopi, a Minoan site in the Bronze age, on top! There still are ruins in the area, but since most have fallen into the sea there is little left. And that which is left hangs onto the edges.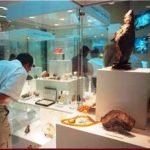 Even if you are the type to not visit museums we highly recommend the Milos Mining Museum in a new building at the edge of Adamas. It was fantastic; one of the best we have ever seen. It helped to better understand the whole island and what we were seeing.
Finally, the super highlight of our Milos experience was our trip to the abandoned sulfur mine. It is remote and not easy to find, but the result was haunting and eerie. You probably have to go there yourself to get the full feeling; the next best is to view one of Karin's photo journal albums:
As I said above we don't usually recommend restaurants and the like but on Milos we did discover something else distinctive–a meal at the O! Hamo taverna. We have never seen anything like it in Greece for charm and character. Then we were pleasantly surprised by friendly, efficient service and to top it off, the food was great. I strongly advise any island hoppers who are getting tired of the traditional taverna to make a point of discovering this place in Adamas past the Mining Museum. It's a place to write home about. O! XOMO which means "The Mess" is funky, had writings on the walls and chairs and lovely pottery cups to drink our ouzos out of! It was right on the beach, so we ate, walked across the street and swam and laid in the shade.
Our last day on Milos! Over breakfast we discussed that on our first day we wondered why we came to such a dirty place–meaning mountain tops all broken up with mining, dust everywhere. However, on our last day we had come to really enjoy Milos and were so glad we made the effort. I would never suggest Milos for a first timer to Greece…but once acclimated to Greek island hopping then coming here would be a wonderful idea. A true study in comparing and contrasting Greek islands.