Hello Grecophile,
Festivals and celebrations in Greece largely centre around the Orthodox religious calendar. Below we list some of the major dates and events including national political holidays. There are links to our festival experiences on Paros which include more details and photos.
The Greek Year

–With links to other pages that provide more details and photos–
January 1 – Public Holiday — shops closed New Year's Day 'Protochronia' Following a morning church ceremony presents are exchanged, and there is singing, dancing, and feasting. A special cake, called a vassilopita, is baked with a coin inside. The person who gets the piece with the coin will have a year of good luck. The traditional New Year greeting is "Kali Chronia."
January 6 — Epiphany – Blessing of the Waters — Public Holiday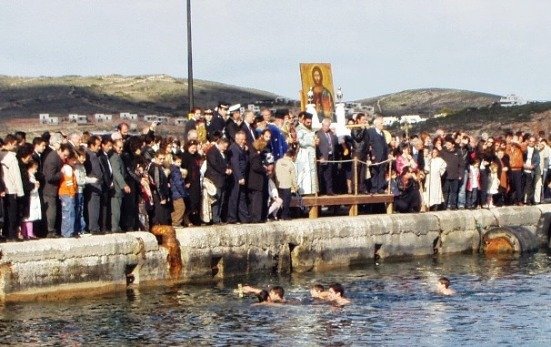 Epiphany is the celebration of the baptism of Jesus by John the Baptist (St. John). The day is marked by blessing the waters. Around the country rivers, lakes and oceans are blessed and crosses immersed in them. At many ports a cross is thrown into the sea and young men dive to retrieve it.
March 25 – Independence Day – Public Holiday Independence Day and the Feast of the Annunciation 'Evaggelismos':  On March 25 in 1821 the Bishop of Patra began the uprising that started the War for Independence. Today it is celebrated with military parades in most major cities. Independence Day also coincides with the religious Feast of the Annunciation, so it is also a religious festival. This is a frequent pattern in Greece. The Orthodox Church continues to play a huge role in government and the government is involved in church affairs. For instance, the election of a new Arch prelate for Greece was officiated by the responsible government Minister.  Palm Sunday — Week before Easter.  (Orthodox Easter dates vary from other churches. See explanation and more about Easter.)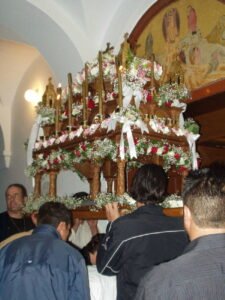 Holy Good Friday 'Megali Paraskevi' 'Epitaphios' (Lamentations) — The celebrations begin on Good Friday with perifora epitaphios, a candlelit procession of a shrouded funeral bier that is carried through the city streets to the local church. Every major city and tiny town in Greece has their own procession. In Athens the most impressive one involves the procession climbing Lykabettus Hill to the Chapel of Agios Georgios.
Holy Good Saturday The Resurrection ' Megalo Savvato' — On Holy Saturday there is a Resurrection Mass at 11 p.m. followed at midnight by darkness symbolizing Jesus passing through the underworld, and finally by fireworks and a candle light procession through the streets symbolizing Jesus' resurrection. The lighted candle is transported home where it is used to mark a burnt cross over the front door. Then the Lenten fast is broken by eating red-dyed eggs and mageiritsa soup made from sheep offal. It tastes better than you might think!
Holy Easter Sunday ' Kyriaki tou Pascha' — Easter Sunday is spent with the family, singing, dancing, and feasting on roast lamb and red eggs. The greeting for the day is Christos Anesti "Christ is risen!" and the reply is Alithos Anesti "Yes He is truly risen!". Easter Sunday & Easter Monday are Public Holidays
May 1 – Wreath Day, Labour Day, May Day 'Protomayia' –Public Holiday On this national holiday it is traditional for people to go to the countryside, have picnics, gather flowers, and make them into wreaths for their homes. Many flower festivals take place all over the country.
Whit Monday 'Agiou Pnevma' Fifty days after Easter. This religious holiday marks the descent of the Holy Spirit to the disciples. It is celebrated with church services decorated with pennants. Greeks use this holiday to go away for a long weekend, usually to the Greek islands.
23 – 24 June — Burning of wreaths and jumping over bonfires — Great fun on the beach–usually involves free food and drink as well. Read more about specifics in Naoussa and Aliki: Paros Festivals
These two months are too full of events to begin to list.  However, I will attempt to convey the flavour.  Whatever town you are in it is well worth it to seek out a list of scheduled events.  For instance, many performers combine their holiday with putting on a concert for the locals.
6 August — Our home village of Aliki holds its festival on this date. We love to show it off to guests.  Read all about it.
August 15 – National Holiday – Dormition and Assumption of the Virgin Mary Assumption of the Virgin 'Apokimisis tis Panagias':  Assumption Day falls within the traditional Greek vacation month when Greeks are normally on the move. It has become the time for family reunions back at the home village–no matter how many years a family has lived in the city they still identify with a village. So typically crowded ferries and buses become even more packed and highways have special lane designations. This is the largest celebration of the Holy Virgin Mary in Greece. The island of Tinos is a major pilgrimage destination for thousands go to be blessed, healed or baptized. In fact every island will be packed. On Paros late arrivals pay very high rates or sleep in the churches. The fireworks are fantastic though. 


The Monday after all the traffic flows back the other way. The holiday season is abruptly over.


The seniors and the bargain travelers come in September.  September has a few village festivals centering around the harvest and Saint Days.
October 28 – Oxi (No!) Day — 'Ohi Day' — National Holiday
During World War II, Mussolini issued an ultimatum to Prime Minister Metaxas demanding free Italian passage through Greece. Metaxas' response was "Ohi" which led to the subsequent battle and eventual defeat of the invading Italian army in 1940. Today, Ohi Day is celebrated with remembrance services, military parades, folk dancing, and feasting.
November 17 – Anniversary of the Polytechnio 1973 sit-in at the Athens Polytechnic which lead to the fall of the military dictatorship in 1974.
November 25 – Day of remembrance for the National Resistance between 1941 and 1944, laying of wreaths and reading of names of dead.

Various events leading up to Christmas, i.e. music concerts, events for children
December 25 – Christmas –Public Holiday Christmas 'Christougenna' — Although less important than Easter in the Greek Orthodox 
religion, Christmas is celebrated with religious services & feasting. Today there is considerable western influence with Christmas trees, decorations, and presents. Throughout the Christmas season children go door to door singing Christmas carols. A small gratuity is customary. December 26 – shops closed for Boxing Day — Public Holiday Gathering of the Virgin's Entourage 'Synaxis tis Panagias' — Similar to Boxing Day in England and Canada. December 31 – New Years Eve – Vassilopita (sweet bread with coin) and kalanda singing
And so we start over again . . .