One of the aspects of living on a Greek island is that each winter the island gets smaller and smaller. Which brings on the psychological disorder commonly known as island fever. Fortunately, the cure is readily at hand –travel.
One of our most memorable winter trips was to Turkey and included the ancient Greek city of Ephesus. Which by the way is predominately Roman in that the extensive and elaborate ruins that are seen today were all built by the Romans after they took charge in 129 B.C.
The nearest town is Selçuk with a history of its own so there is much to see including the tomb of John the Apostle and Mother Mary's House. We arrived there from Istanbul by way of ferry, train and minibus. The latter from İzmir, the Turkish rendering of the original Greek name Smyrna, which is Turkey's third largest city.
We stayed at the small Hotel Bella which was run like a personable B & B with roof-top dining and included a carpet shop. We really enjoyed having tea while listening to the proprietor tell us about his buying trips into the mountain villages, each with their own style of carpet. Too bad we can't remember which one made our small rug that is now a family heirloom.
Our host also gave us a lift to and from the Ephesus site and recommended this place for lunch.
The Ephesus site itself is very intriguing because it is so much more intact and detailed than your typical ancient Greek ruins—Knossos excepted.
One way to tell an ancient Greek ruin from an ancient Roman one is the plumbing. Another is by the statuary; here is one artist's interpretation of the main Ephesus street at its zenith as a Roman city.
The Temple of Artemis, one of the seven wonders of the ancient world, was one of the most important structures in the Roman Empire. There's little left here but signs to help you can imagine the size and power of the temple.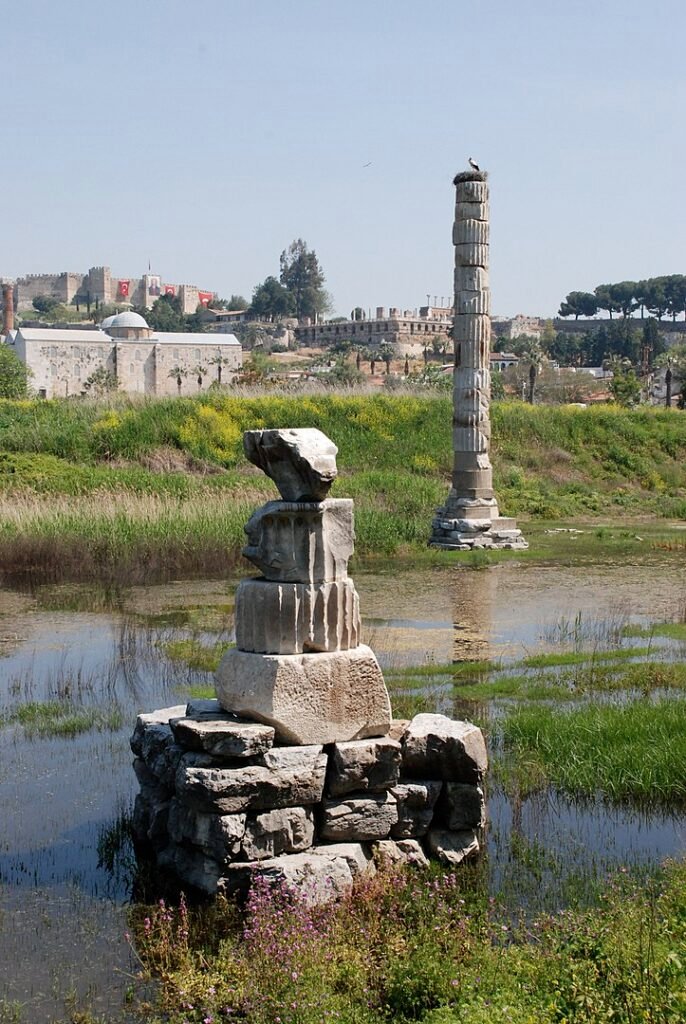 The Ephesus Archaeological Museum has an extensive collection of well preserved artifacts that help one imagine when Ephesus was a large and vibrant city. Plus it's all in the shade.
There are numerous statues from the Temple of Artemis as well as other artifacts found there such as rings, earrings, pendants, bracelets and the inevitable pottery. Also on display are furniture and room décor from the luxury Terrace Houses that you see at the site.
Within this region of Turkey there are other ancient Greek sites to visit. Read More
As I wrote earlier Selçuk and environs have many interesting sites, many within walking distance. If you are lucky, you may experience a local festival such as the one this school band was preparing for.
Finally we returned to Paros by way of Kuşadası, Samos, and Patmos. A journey worth another post . . .