Published 7 August 02
Yassis! August is now upon us, the seriously busy time . . . the "make it or break it" time. A friend commented to me that once we got busy, I would not have time for this newsletter. Since writing is fun and something I do in my spare time, it never occurred to me, he might be right! So if this newsletter is a bit dis-jointed, keep in mind it is being written in several stops and starts!
Early July began with patio parties and barbecues at friends' homes – the time when such leisures were affordable. Middle July began to be busier and August will be the busiest of all. If what the statistics are saying is true, that tourism is down this year, I simply can't believe it. Everywhere are tourists and more tourists, causing traffic jams at the ports, flooding to the beaches, and tavernas. This is the time of lots of festivals. I am very glad we are in Aliki, a village small and quiet enough to not loose it's charm.
I continue to learn and be amazed at so much . . . such as, Paros has turtles! My friend acquired three (she has no idea where they came from) which keep her dogs entertained! They live under her plants in the flower garden where she has put water out for them They do eat her leaves – but not seriously so. I also had the occasion to witness a fairly large turtle slowly crossing the street while three kittens curiously ran around it. July seems to have brought a lot of interesting bugs with it . . . praying mantis's, huge flying black beetles that hover over flowers, cicadas, white grasshoppers, and something that looks like a long twig. Also the wind brings red dust and sand, but we have learned to love those winds! Very cooling on the skin, but one must remember we are still capable of burning while feeling quite comfortable!
I learned some lessons and facts about the sun: It destroys plastic clothespins in a very short time….It whitens clothes on the line nicer than any bleach ever could….When shining down on the sea, it allows you to see every grain of sand on the seafloor even when over your head in water….It can seriously dehydrate you if you do not take in enough water….and it tans the beauties who lay on the beach for hours to perfection! (So my husband says! – and I must agree.)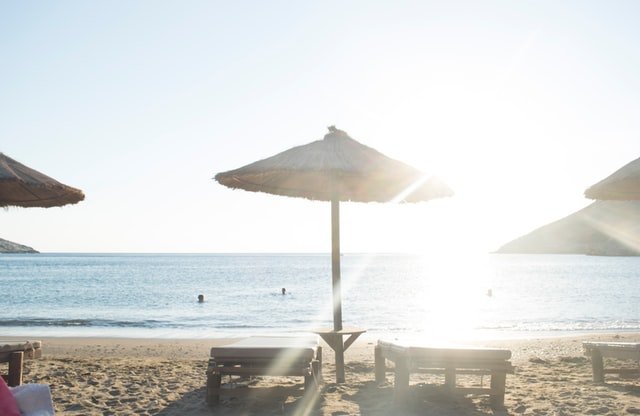 Here at our pension, we have experienced some truly great guests from all over Europe, with Americans being almost non-existent. I thought of an idea – cooking dinners and charging a very reasonable rate of €6 each person. These meals usually are done on Monday and Friday nights. My first attempt was a Greek meal, then an American barbecue with hamburgers and potato salad, even a Mexican night complete with enchiladas. We also had a beach party which was such a success that I guess it will have to happen again, in spite of the extra work involved. Our dinners are eaten upstairs on the roof courtyard with sunset views and cool breezes and music. Everyone brings their own drink…then we eat and talk in a mixture of languages but mostly English…everyone getting to know each other, which makes it a happy and congenial place!
Another idea was to show videos . Last night, everyone who wanted to, met in the centre courtyard, where we pulled out our TV and watched The Jerk, with Steve Martin. Of course it is an oldie, now, but still it was a nice evening and everyone was happy. I served small pieces of baklava, which is a sweet made from phylo dough, nuts, and oodles of honey – bakery bought. It was received quite enthusiastically, so am encouraged to add this event to our agenda. One family had me get Stuart Little at the video store, so her kids were entertained for awhile, giving the parents a break . . . although I watched it too!
Michael and I get out on Sundays for a bit of time for ourselves, even though we do swim most days. We find it nice to be alone for a few hours, do a bit of reading, or eating in places we remember from last year. One of these is a nice restaurant on Antiparos where I can certainly recommend their yoghurt, fruits and honey! I had one yesterday, and it was delicious. Also the California Juice Bar on the beach in Parikia has a great sandwich. Last year we noticed a beautiful yacht anchored out front and found out later that it was Sean Connery's yacht ! The closest I will ever be to eating with the Rich and Famous!
Speaking of eating: it is Monday, and so I must go to the kitchen, turn on the fan, and get busy cooking! Tonight's main course is: Tomatoes and Peppers Stuffed with Rice, with potatoes pieces in between them, and fantastic Greek country sausages. The Greeks call it Domates ke Piperies Yemistes. Come and eat with us!
Bon Appetite Wherever You Are!
Karin
The best aspect of this job is meeting so many diverse people. One of many aspects that we find in common, however, is computer use. One evening for example the women were on the porch admiring the sunset while 6 men and boys were clustered around the computer discussing the merits of high speed connections.
Many of our guests have their own web site. Some are listed here:
Dawson and Flo from Australia and France have the most extensive. It is a running commentary of their journey around Europe in a small van. See (now defunct)
Our Swedish guests were well into music, at least the younger set calls it music. We were impressed with their enthusiasm and their ability to make it happen at such a young age. Check out The Realm of R.I.P. (link expired) and The Official Homepage of Forgotten Words (link expired)
From Amsterdam we have Manfred who designs web sites and loves the technical aspects of recording music. He has a site on speaker design. His 9 year old son Rik also has written his own site in html. A budding genius I think.
Also I have a ton of links for Paros and Greece, so if your favourite search engine does not cough up what you are looking for, email me and I can probably point you in the right direction.
Until next time
Michael