Published 5 Mar 03
Greetings:
This month we actually have some news in our Newsletter: We are moving!
    The Aliki building will be converted into a hostel so we are relocating to a complex of studios near Agri Irini (Palm Beach).  The sea view with Antiparos in the background is breathtaking.  All the units have fully equipped kitchens as a separate room.  It is called Marinio Studios.  For now you will have to take our word for the beauty — because we have not had enough clear weather to take any decent pictures.  We will include them in the site when we do take them.  April is always nice here, so it should be no later than . .
Update: Here you go: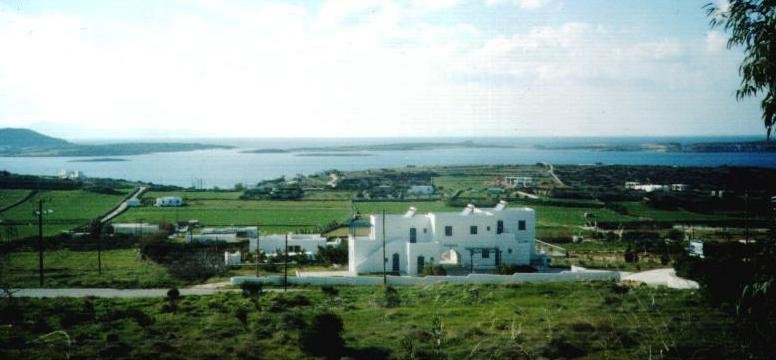 The move also has meant creating a bigger and better web site with much more information about Paros and the Cyclades. The site also includes a section for Guest Comments. Those of you who wrote in our Guest Book will find yourselves there. I like our new URL: https://parosparadise.com/ Please take a few moments and browse; we love to share or piece of paradise.
What more do I say? Karin will keep you informed on the changing seasons from the new viewpoint–actually just below where we lived our first two summers on Paros. If anyone has any specific questions, please write and we will elaborate on what is happening in Aliki as well as the Marinio.
Yassis
Michael
And Now Here's . . . Karin
When January ended with fields of flowers, and a considerable amount of sun and not too cold, we thought winter was over, and that February would only get better. Boy! were we WRONG! Winter had not even started yet. The weatherman in the sky had an entire month of surprises for Paros. The coldest and wettest weather since the 1940's was about to drop down on us.
The month started off just being mostly grey. That of course, meant no sun, which in turn meant colder rooms. Up until February, we had stayed fairly cosy with space heaters in the kitchen, office and sitting room. But, with the lack of sun these cement block buildings just stayed damp and got damper. I never realised how much warmth from the sun buildings can absorb until experiencing the lack of it. Anyway, each day we hoped it would not last, but 4 weeks later we realised it did, and in fact got worse. I am building up to the climax!
One mid-February day, it started to rain. Now, rain here, as opposed to rain in Ireland, usually comes down in showers and then dries up and goes away. But this day it came down steady, often in "heavy steady". This did not alarm Michael and I, as we are quite use to rain. But that night it did not stop. In fact, a wind came up straight out of the Arctic. Between that and the steady downpour we dreaded putting our feet on the floor in the morning, afraid of finding inches of water there. With a sigh of relief, we congratulated ourselves on not having anything worse than a few dribbles that typically find their way in under the doors! However, when we REALLY woke up and looked outside we noticed standing water where it should not be, such as the complete flooding of the road into Aliki! Putting on my wellies, I went out to inspect. I found the beaches a total disaster, a neighbourhood car swept out to sea, roads next to the beach washed out, and other roads that could now be classified as riverbeds – complete with huge rocks! WOW! Water was still gushing down from the rocky mountains and changing our normally blue sea into hues of brown and red earth. And still it rained. I tried to cross a rushing stream, but a Greek man came to his door and yelled at me. I do not always understand what the Greeks are trying to say, but I did understand his concern, and turned back, much to his relief!
Later in the afternoon, when Mother Nature finally decided enough was enough, we ventured forth on our scooters (being naturally curious) towards Parikia, and found landslides across the main road, ditches overflowing with rushing water flooding the main road, hillside rock walls collapsing and other cars swept up by the water on roads that had become riverbeds. The town itself had a lot of damage from the overflowing rivers as well as the sea brought up a lot of silt and deposited it at the front of the many seaside restaurants. The seawall was broken in many places. No ferries today! Nor probably for several days.
I could not find our storm pictures so here is a different storm on a different island. It looks very similar to me:
This event, like bad events everywhere, really pulled people together. It was heart-warming to see the Greeks cleaning up, managing to laugh while helping each other, just shrugging it off and not letting Nature get the best of them. This clean-up has been going on now for a couple of weeks, and each time I go into Parikia I am amazed at how quickly it all is coming back to normal. I know in a few months, no unsuspecting tourist will even know how bad it had looked previously. With Easter coming (which is a big and meaningful event for the Greeks – much bigger than Christmas) I know that is one of the reasons they are making a lot of effort to get everything back into shape. Lots of Greeks from Athens come here to attend the famous Ekatontapiliani Church.
Easter Dates 2003 *
Greek Easter is on 27th April.
Non-Orthodox Easter is on 20th April
Easter dates for current years
The prelude to Lent before Easter, of course, is Carnival. While they show the beautifully clad women, or should I say scantily clad beautiful women of Rio de Janeiro on TV, Carnival here on the islands is of no comparison. Maybe in Athens. Here on the islands tight morals still hang on, and it is just a sweet happy time. Michael and I watched a Carnival event on television one night taking place on some other island (I don't know which island, even I have a hard time with names here!) It was quite tiring to watch unless you get into what it all means. I had done some previous reading, and knew that some of the character's costumes and dances represented the harsh life of the Greeks while under Turkish rule; others were spirits, old men and women, dancers depicting harvest time, and other historical events in Greek history. Lot's of slow dancing in native costume with their hands miming their stories. Most of it goes over our heads, still it was interesting. The music is always fun for me, as I have come to like some of the Greek/Turkish musical tones. At first I didn't like it so much, but like a lot of things Greek, it grows on you.
Actually, other than bad weather, I think Carnival has been the only colourful event. It lasts about 3 weeks and is called Apokries. This week I found the supermarket stocking up with items the Greeks will eat during Lent. Halva is one of those things. I never realised they had so many kinds. You can buy it at the deli counter in all shops, big or small. You just ask for a chunk to be cut off for you. But the best kinds are in pretty boxes with labels from exotic countries and are full of cherries, nuts, carob, anything as long as it is not sweet. I am thinking to buy a nice boxed one rather than a chunk off the deli counter. I want to splurge.
Below are some of the remaining events in March to end Carnival and to start Lent. When looking through my Greek cookbook, I discovered an entire different way of eating for the next few weeks. The Greeks really do deny themselves. Next month I will tell you more about how they eat, and perhaps send you a recipe or two.
*2nd Mar – 4pm – Carnival Parade with music and dancing starting from the port to the main square in Antiparos https://parosparadise.com/aliki/
9th Mar – Last day of Apokries. Parade around 2pm in Marpissa ending at Platia Christou.
10th Mar – Clean Monday (Kathari Deftera) – the first day of Lent. Traditionally a day for picnics and flying kites.
* Dates courtesy of the local expat newsletter: Paros Life
February has found me knitting. I found wool from Paros sheep in a little shop, so am knitting a lap robe. (Thanks to a friend who sent me instructions in English!). Also reading, and watching videos. Our trips into Parikia are less now due to bad weather. Drying clothes in front of a heater has been a challenge, taking several days to dry. But all in all, February was not THAT bad! Now that it is 4 March, I can say that, huh? The weather is warmer by several degrees, and we can see that spring is just moments away! That is very uplifting.
I will end with a happy little event. A "sweetness" if nothing else. One evening I dashed down to the corner market for a few groceries. Inside, I happened across a nice little old gentleman, who gave me the eye! As I passed him I smiled my sweetest and went about my business. In the meantime he had sat down up at the counter (there are chairs for "regulars" – men mostly – to sit and gossip with the old man, Costos, who owns the shop). As I walked around, he kept watching me….so I flashed him my smile from time to time. Who knows what he and Costos were talking about…..I did not really care. (One gets use to not paying close attention when you cannot speak fluently). Anyway, this man was actually quite cute in spite of his age. When I got up to the counter and started putting my items up, he jumped up, got a plastic sack and started putting my things into them! A very unusual thing for a Greek man to help a woman, mostly they wait for the woman to serve them! I, again, flashed him my sweet smile, and looked him eye to eye with a "Efreesto, Poli", which translates into "Thank you very much"! He was so pleased with himself! He had certainly made my normal venture into the store more interesting . A bit of innocent spring flirtation! Warms the heart!