Newsletter Number Two
Published 28 May 02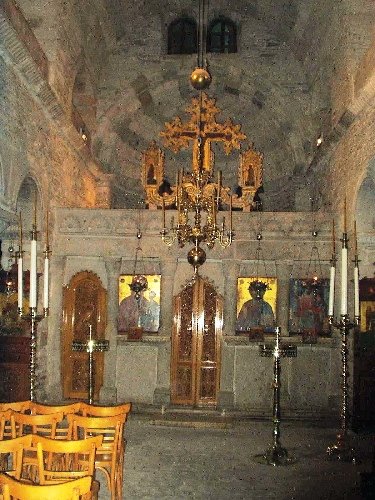 Dear Friends, Here it is, almost the end of May. So much is happening it is hard to get it all gathered together into one neat package. But I will try. 
The highlight of May was Greek Orthodox Easter which took place on 5 May. We looked forward to observing as many events as possible. On the Friday before Easter we went into Parikia, the port town, where there is a famous church called: Ekatontapliani.  Parts of the building go back to the Justinian period (400 AD), so you can imagine how beautiful and old it is (in spite of all the turmoil Greece has experienced over the years – such as being a long time under Turkish Muslim rule). Inside are decorated and ornate icons, air heavy with incense and priests in rich robes chanting in a mournful and sorrowful way because of it being Good Friday. The people came and went all day long, so it was one long mass! One interesting note is that very few sit, they just go in, kiss the icon, kiss the cross and listen respectfully to the priests for a few minutes before going out.
In the evening we went in again, to see the midnight procession. The Hellas ferry called Express Ekatontapliani was in the harbour for the event and blew her horn in a very befitting manner: slow and reminiscent of long sad wails. Men at the head of the procession carried a large flower bedecked coffin in which you could see, through the open sides, the body of Christ lying inside. A very interesting and emotional event with several other flower-bedecked thrones and crosses.
Saturday we were told all shops would be closed… but they were not. We were also told that Easter would be a happy and noisy day — that was true! Saturday night immediately after midnight mass the quiet night became alive with 1,000's of firecrackers that went on all through the night as well as Easter Sunday (and a few die-hards even went until mid-week!) After the mass, it is usual for families to go home and break the long fast with soup made from the intestines of lamb – YUK! After a long sleep until noon, they then get up and barbecue the lamb. The entire island smelled of roast lamb.        Editors note: More about Easter on Paros and in Greece
Up until Easter the island was quiet… then overnight Paros was "resurrected" as well! I have NO idea how it happened, but in a blink of an eye shuttered houses were open, stores that looked like they might never open had wares outside and shelves loaded with merchandise inside! Grocery stores had a much wider variety of choices. Outside cafes and tavernas were doing a great business! It was totally amazing! The port ferries were unloading lots of eager tourists–mostly Greek… Viola! the season had begun!
There was an interesting non-advertised event at the port… a new Blue Star ferry went into service called PAROS. I just happened by accident to be at the port that day and realised something big was about to happen…a band was practising… kids in native costume had baskets of flowers and a podium was erected! Being a very curious person, I hung around to see what was going to happen.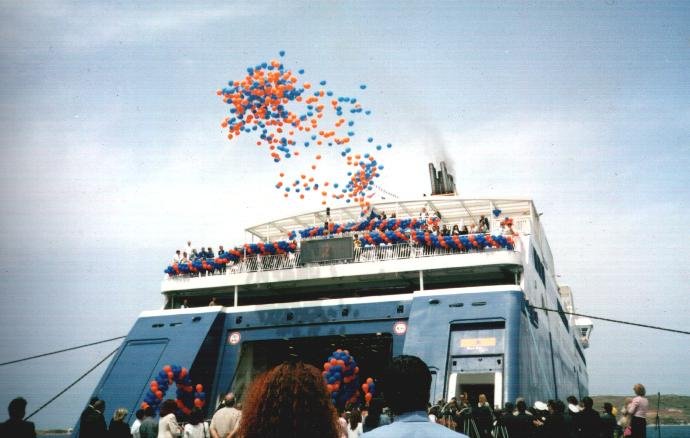 I found myself feeling the most incredible joy as around the bend came two ferries…the first was the escort, tooting and tooting and tooting! Behind that one was another ferry all covered with blue and gold balloons and tooting and tooting! Such excitement and hullabaloo!! Between the band playing The Yellow Submarine and the sun and the water and the breezes and the tooting… well, it took my breath away and brought tears to my eyes. I did not even seem to realise I could not understand the speeches and was too far back to see the champagne christening given by two Orthodox priests! I was so totally caught up in the moment.
The best was yet to come… everyone was invited to board and tour the ferry! All I can say is WOW! WOW! WOW! So clean, so nicely decorated. We even got to go on the bridge and stand at the controls. The stewards offered everyone a great selection of food and wine. The Greeks certainly know how to party in style. We were given Blue Star Ferry baseball hats when leaving! Michael and I both heartily recommend Blue Star Lines.
On the mundane side: is there one? No, I think not. Tourists are starting to visit Aliki, and we have had some really interesting guests with the promise of more coming. The owner we lease from had three German couples (personal friends) stay with us, but ate over at his house. We usually saw them in the morning over coffee and sometimes had late evening talks over wine. Another guest came from Israel who is considering bringing his family over to Paros to live: feeling it a safer place to live, where his children can know a life free of terrorism. One perk of this job is getting to know people and the sharing of experiences and ideas. Often a real eye-opener.
Weather-wise, it is changing fairly quickly. We start the night sleeping with a blanket, but sometime in the night want to throw it off. I know in another couple of weeks a sheet will be all we want. Last Sunday we had our first swim of the season at a local beach and both of us have acquired tans, even though we are not people who lay in the sun for very long at all. I guess it is our scooter rides!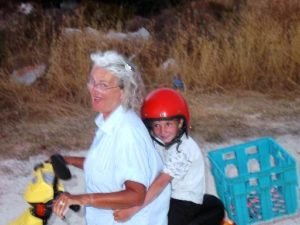 Speaking of scooters, I bought one this year! It is yellow, which pleases me very much because since the 70's my deep desire was to own a yellow Porsche! Now I have a "used" yellow racy looking Yamaha! It will suffice! We have worked out with some of the scooter rentals shops here to give our guests a good deal, so when any of you come we will steer you to the guys who will not take advantage of you and your money!
And speaking of weather – this morning early we had quite a thunder and lightening storm. We woke to lots of rumbling thunder in the distance. I got up and made coffee and went upstairs to the open courtyard where there is a sea/mountain vista view. I have seen a lot of amazing rainstorms in my life, but this was probably one of the best. The sea was very calm and was the colour of a peacock's breast – iridescent green/blue – against a very black sky. The exciting part was the constantly billowing moving clouds, the colour of smoke. Then towards the mountains on the other side of the building… it was all in sepia tones… with clouds moving slowly at the bottom of the hills and the sun shining on the top of the mountains. Quite often a flash of sideways lightening would brighten the dark sky. Suddenly, the skies changed and bingo! big drops started to fall, the sea was full of waves and the heavens opened up! The storm lasted about half an hour, and then out came the sun in a blue cloudless sky! The plants will need no watering today.
We see signs going up all over of June's events: music, dance, the opening of the outdoor cinema, art, etc. We are an island of culture! And of course the water is only going to be warmer and better! In fact, I think I will end this. The beach beckons . . . Yassou! Karin
This was an especially long issue because Michael also included an article he wrote about how and why they got into this expat nomad lifestyle.  That article now resides in our Travel Shepherd site:  Outside In or Inside Out
Next:  Newsletter Three